The UK economic slump because of Covid-19 will be less severe than expected, but the recovery will also take longer, the Bank of England has said.
It expects the economy to shrink by 9.5% this year.
While this would mark the biggest annual decline in 100 years, it compares with an initial estimate of a 14% contraction.
However, the Bank said unemployment was likely to rise "materially" as it held interest rates at 0.1%.
In its first official forecast since the pandemic hit, the Bank said the recovery had been "earlier and more rapid" than it had assumed in May, reflecting a faster easing of lockdown restrictions.
It said spending on clothing and household furnishings was now back to pre-Covid levels, while consumers have carried on spending more on food and energy bills than before the lockdown.
However, it said leisure spending and business investment remained subdued, which would weigh on the recovery.
Slower recovery
The Bank said the UK still faced its sharpest recession on record, with the outlook for growth now "unusually uncertain".
It expects the UK economy to grow by 9% in 2021, and 3.5% in 2022, with the economy forecast to get back to its pre-Covid size at the end of 2021.
This compares with growth estimates of 15% and 3% respectively, in a scenario the Bank set out in May.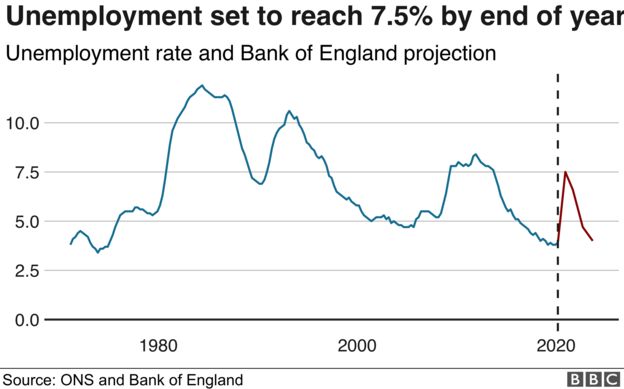 Unemployment is expected to almost double from the current rate of 3.9% to 7.5% at the end of the year as government-funded support schemes come to an end.
Average earnings are also expected to shrink for the first time since the financial crisis.
The Bank said more workers faced a pay cut or freeze in 2020, adding: "in many cases, bonuses have been scaled back or withdrawn altogether for this year".
Its latest forecasts are based on the assumption that there is no second wave of the virus and that there is a smooth transition to a new EU free trade agreement at the start of 2021.
Negative rates 'under review'
The Monetary Policy Committee (MPC) said it would not even think about raising interest rates until there was "clear evidence" the recovery had taken hold.
It said the use of unconventional tools to stimulate the economy such as negative interest rates remained under review.
While negative rates could boost the economy, the Bank said such a move may have unintended consequences.
It could stop the UK's already fragile banks from lending, or lead to customers withdrawing their money and holding it in cash.
Policymakers also noted that High Street banks would find it difficult to cut rates on savings accounts below zero.
"The MPC will continue to review the appropriateness of a negative policy rate as a policy tool alongside its broader toolkit," it said.
Ruth Gregory, an economist at Capital Economics, said the Bank was likely to increase its money printing programme by a further £100bn later this year.
She also expects the Bank to keep interest rates at 0.1% "or below" for "at least five years".
Source: BBC